Russell is a Dana Trained Teaching Artist that has been working some 10 years as an artist in residence in various schools around the state of Alabama. Russell's "Traditional Music to American Pop" program has been used to teach students K-12 about their heritage and music culture.The tradition of performing, creating, and preserving music heritage is important to us all. Participation builds self-esteem, a sense of self-worth, and a real sense of place.

This will be the 10th year, Russell has worked as the artist in residence for the Fort Payne City School System, teaching in classes himself, coordinating visiting artists to the system for performances, workshops and residences, performing for the students in assembly, and developing other long lasting programs. Russell has continuously been a partner with the Fort Payne Middle School in developing its "Guitar Class" program that introduces students to learning to play the guitar, and for the past four years has been coordinating and developing the Discover DeKalb Music (DDM) Program, a performance showcase for Middle and High School Students. The program in the past has allowed the DDM students to participate in the recording of a Christmas CD featuring members of the Super Group, "Alabama", Grammy Award winner Johnny Neel formerly of the Allman Brothers, Dennis Gulley of the Muscle Shoals group, "Jackson Highway" and other professional musicians.

Russell is also one of the initial teaching artists to participate in the Alabama State Council on the Arts' Collaborating Artists Program (CAP). As a CAP artist, Russell uses songwriting in an entregrated arts curriculum to enhance reading comprehension in elementary school students.During the 2013/14 school year,Russell used the CAP Program to work with all the 3rd class students at Fort Payne's Williams Ave. Elementary School He has also participated in the ASCA's ATAP Program as a performing artist, performing at schools all across Alabama.

 
Discover DeKalb Music Showcase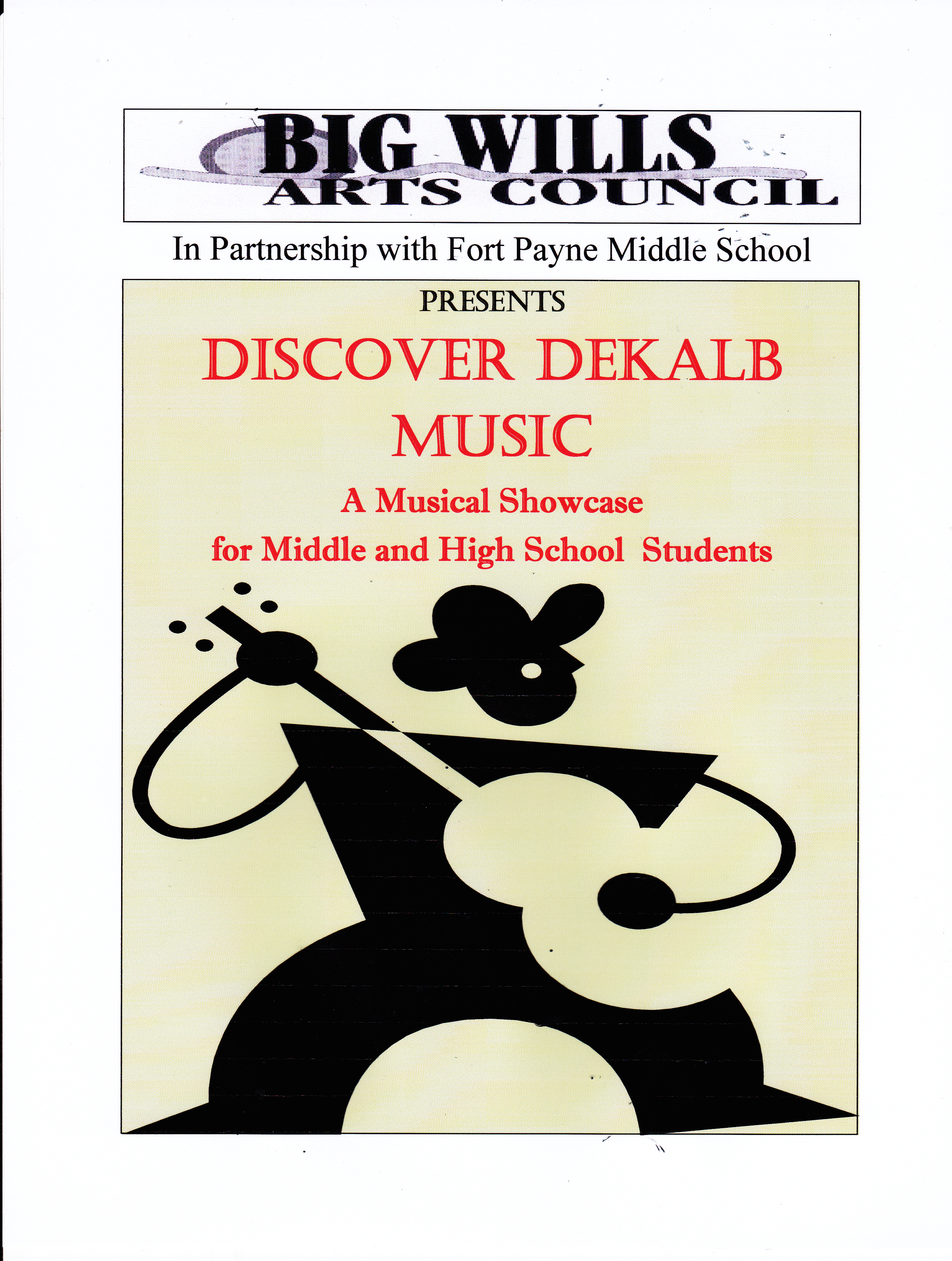 For the past 10 years, I've has been honored to work with our local schools as an artist in residence, not only by teaching in our classrooms as a DANA Trained Teaching Artist (on the Alabama State Council on the Arts in Education Roster), but also by presenting other artists and programs into our schools as well. Artists such as writers, Jerry Ellis and Ann Chancey, potter Jim Gasser, acclaimed actor Ron McCall, musicians James Bryan, Chris Anderson, Jeff Cook, the Alaskan Fiddlin' Poet: Ken Waldman, the "Math in Motion" dance team, drummer John Scalici, The Alabama Shakespeare Festival to name a few that have been a part of our program along with a presenting of the Smithsonian Institute's New Harmonies Exhibition. The program has also been instrumental in the development of the Fort Payne Middle School's acclaimed guitar classes with Chris Roberts.
Our area has a nationally acclaimed musical heritage that descends from the singing of the Sacred Harp and the Old time Fiddlin' at the turn of the last century, to today's acclaimed Country Hall of Fame Members and ACM's Artist of the Century, the group "Alabama". To celebrate this heritage, this partnership with Fort Payne City Schools, and particularly with principal Shane Byrd at Fort Payne Middle School, would like to invite your students to participate in a musical performing arts in education program, one that is designed to be a positive, developmental experience for any student that has a desire to perform and create music.
This program is, "Discover DeKalb Music", a musical talent showcase designed for area middle and high school students. The showcase participants will be provided with an opportunity to participate in a skills development workshop that is connected to State Board of Education Curriculum Standards and to perform, first at an evening showcase for the public at the April 16th , 3rd Saturday Downtown Cruise-In, Downtown Fort Payne, and second at the Annual Boom Days Heritage Celebration in Fort Payne next September.
The schedule and info the annual workshop along with the promotional materials, flyers, etc., and final details are available at www.russellgulleymusic.com/artsineducation . The Big Wills Arts Council and Fort Payne City Schools would like to see as many students as possible have this opportunity to participate with experienced professional musicians and teachers, so registration fees will be kept at a the level of last year's fee of $30.00.
We'd like to ask your support in helping us get the information to your students as soon as possible.
For additional info, contact the BWAC at 256-979-1910, Russell Gulley at 256-845-0203, or e-mail bwac@russellgulley.com. 
Thank you so much for all you do to benefit our students.
Sincerely,
Russell Gulley
Exe. Director Big Wills Arts Council
Artist in Residence: Fort Payne City Schools
Discover DeKalb Music Registration Form
BWAC Visiting Artist Program 2015/16
Coming to this space soon will be an overview of this years BWAC (Big Wills Arts Council) VISITING ARTIST PROGRAM 2015/16
Fort Payne Middle School Arts in Education Program 2014/15
Updated 04/04/16


Russell began on Wed. Aug. 20th,2014,his 8th year as Artist in Residence for the Fort Payne City School System.The first program this year will take place at Fort Payne Middle School. Russell will use songwriting to enhance learning in the 8th Grade World History Classes this fall. 

Here's a photo and update: 11/05/14
Had a very good day at Fort Payne Middle School with the 8th grade World History Classes. I think the students are beginning to catch on to what lyrics are all about, especially in relationship to their study of Ancient Civilizations. I'm planning to feature them/their work in a new book showcasing the BWAC Arts in Education Programming and there may be a followup CD (to the Christmas CD recorded two years ago) in the works for Feb./ Mar. 2015.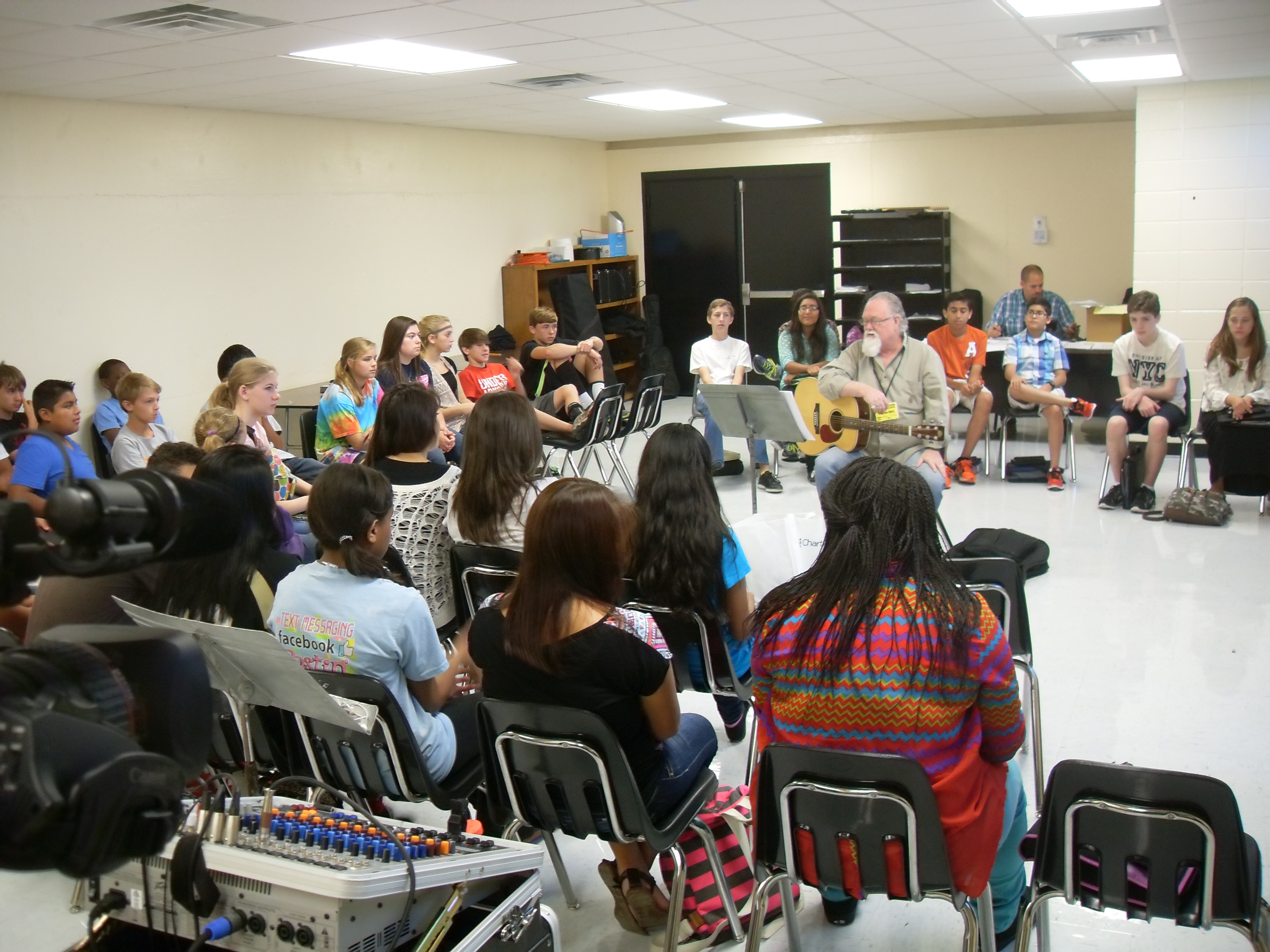 Russell will also work with The FPMS Guitar Class to enhance their study of the guitar with songwriting skills and traditional music.

The Visiting Artist Program presented on Sept.19th, its' first in school concert of the year at Fort Payne Middle School with a traditional music performance by Russell featuring "April Mae and the June Bugs" from New Jersey as they arrive in Fort Payne for an appearance at Boom Days 2014.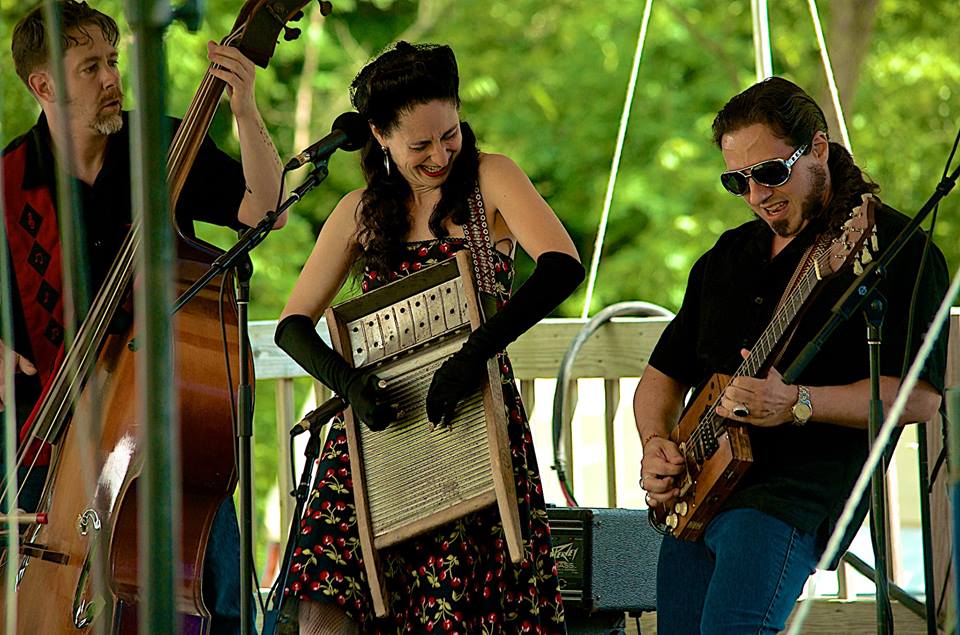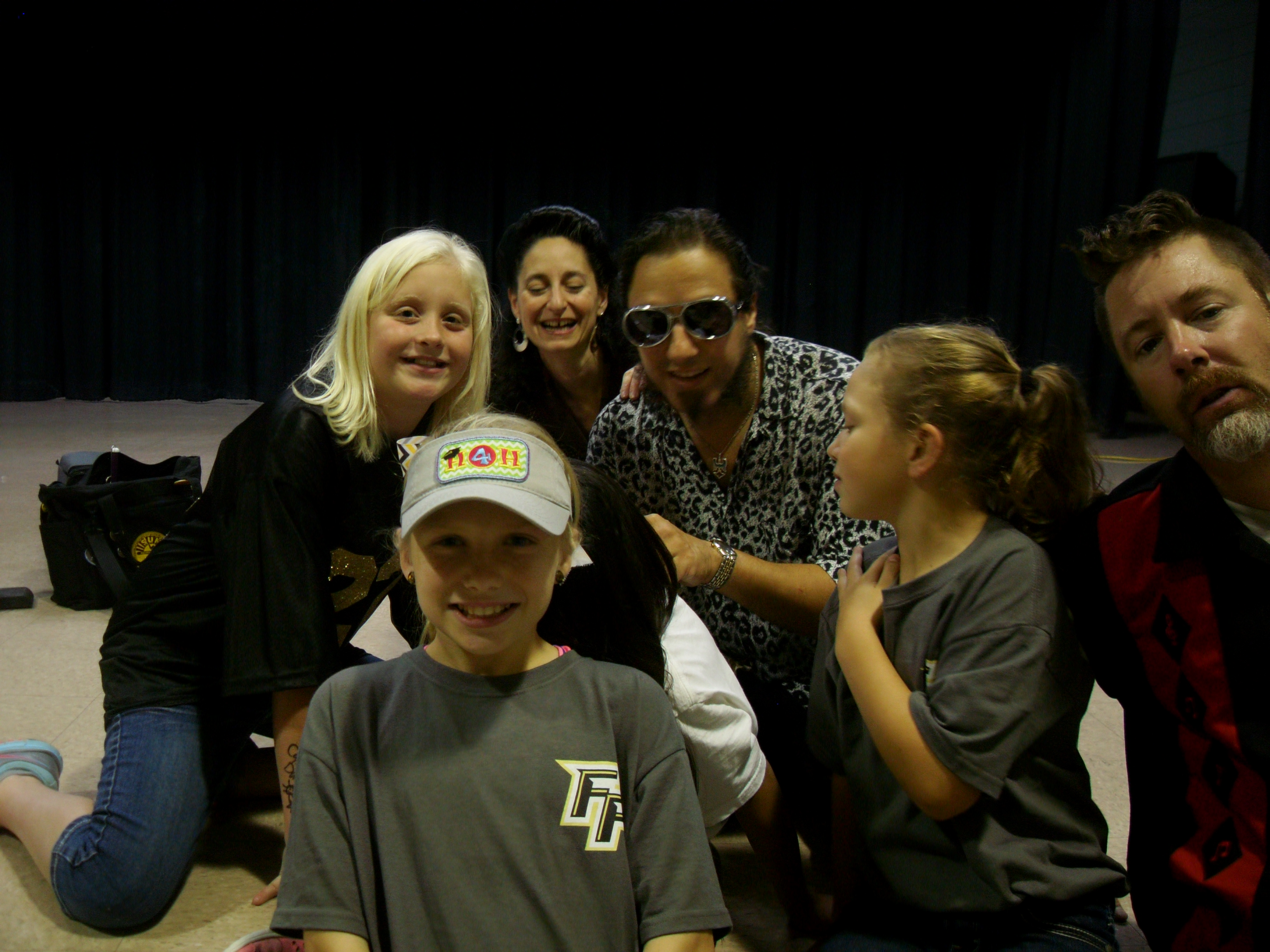 Here's a photo of April Mae and the guys signing student autographs.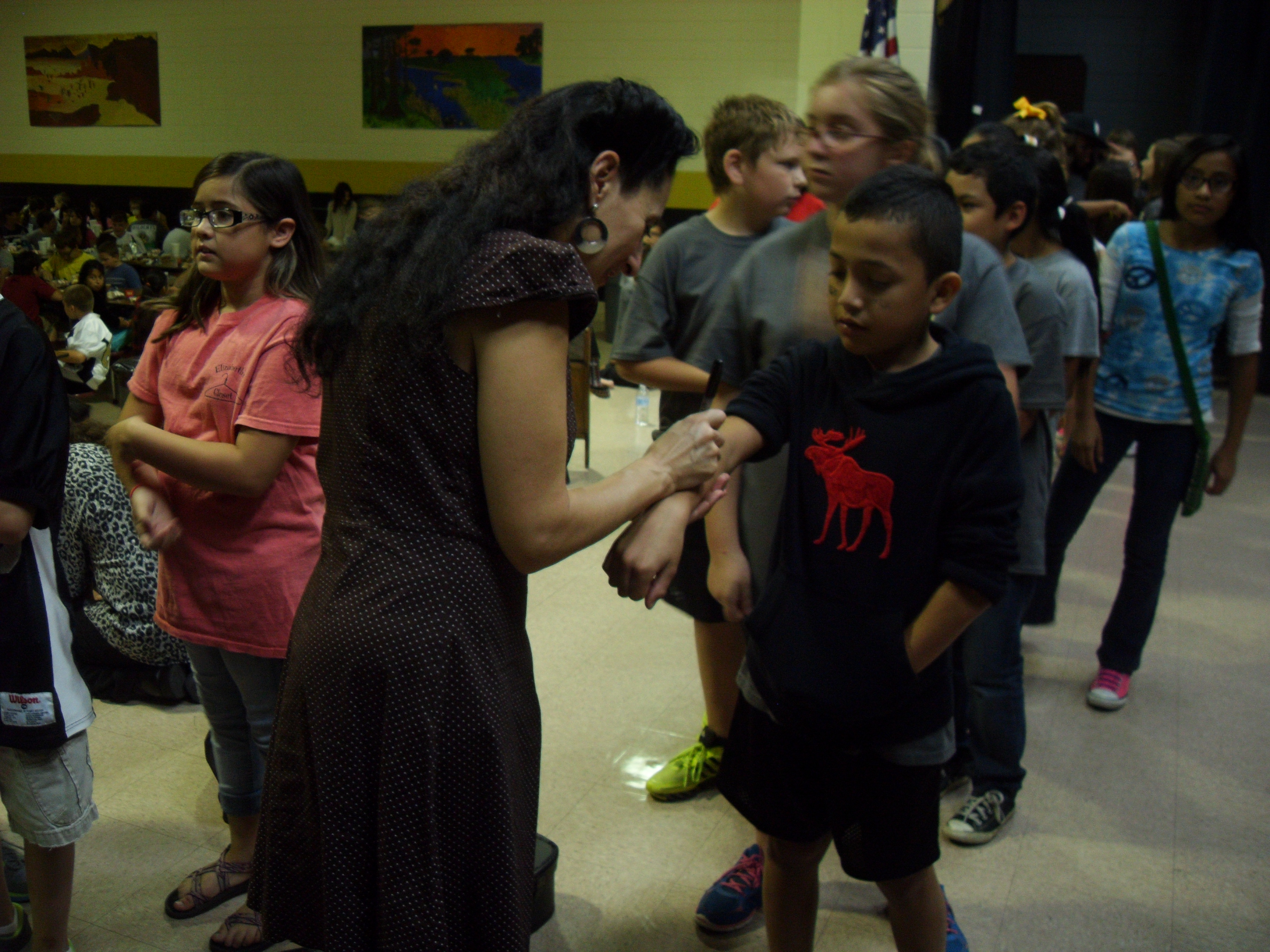 More events/programs will be announced soon.